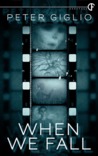 When We Fall by Peter Giglio
My rating: 3 of 5 stars
Genre: Horror
I normally don't read books with dark subject matter because they just don't really appeal to me. However, I was searching around on Netgalley one day and found this dark novella that intrigued me with its cover, saying "read me!"
Ben loses his best friend and his bully within a year of each other. Constantly walking around on eggshells with his parents, particularly his mom, because she is constantly pestering him about his mental status with all the loss he has had to endure Ben finds relief in a friendship with Aubrey.
Aubrey and Ben's friendship is unique because Aubrey is four years older than Ben and she is also his babysitter. Wanting to find absolution from past sins Aubrey hopes that her friendship with Ben will be her salvation.
When Aubrey's sins come back to haunt her is her already fragile psyche going to be able to handle anymore?
My favorite character was of course Ben and I routed for him the whole time. I was surprised when the specifics of Aubrey's sins came to light through her diary entries I definitely wouldn't have guessed any of that. The scene where Ben finds Aubrey in bathroom is really well written and also the hardest to read, I was like no way I just couldn't believe it.
I found some parts of the story frustrating because I did want the story to be a little more developed but considering it being a novella instead of a novel I can understand why so things just were not delved into very deeply. I also found the idea of a ghost put me off of the story a little I am not sure why it just didn't seem to fit I think just seeing it in the film would have been better than actually having a late night visit with it.
View all my reviews