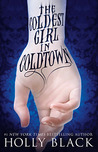 The Coldest Girl in Coldtown by Holly Black
My rating: 4 of 5 stars
Genre: YA Fantasy
I have read quite a few of Holly Black's books lately and this one did not disappoint. I was first drawn to the title and when I read this blurb on the back cover from Kirkus Reviews saying this about the book: "It's dark and dangerous, bloody and brilliant."
Yes this is another YA vampire novel but you will find this one a little different from those others because in this one the vampires, well at least most of them, live in what are known as Coldtowns.
Pretty intriguing I know.
So this page turner starts with Tana waking up in the bathtub of the place that she partied hard at the night before with all of her friends. But after she starts moving around Tana realizes there is something off and soon discovers that everyone there that night has been massacred by vampires! Completely freaked out Tana contemplates how to escape because the vampires could still be in the house and guess what she's not wrong. Tana soon finds herself locked in one of the rooms, with her ex-boyfriend (who other than here was the one other one to survive but he is infected so if he drinks human blood he will turn into a vampire) and a chained up vampire and there are other vampires outside the door trying to break it down. But luckily for Tana the room has windows and the threat of the sun will keep the vampires on the other side of the door, well that is until it sets, so Tana better come up with a plan and quick. Somehow Tana ends up saving their sorry butts and she escapes with her life, along with an infected and a vampire, oh and she thinks she may have been bitten in the escape so she may be infected to.
The nearest Coldtown seems to hold the answers to why all of this has happened and Tana is determined to know why. What will they find when they get there? If Tana is not infected how will she get out? And what does all this have to do with some ancient vampire feud? Well I guess you will have to read it to find out and it was an excellent read with great characters, a well thought out plot, and the story line didn't stagnant but kept moving at a decent pace which of course are the kind of stories that keep us entertained instead of bored. This would make an excellent movie which I would actually want to see on the big screen instead of waiting for it to come out on dvd like I do for most movies.
View all my reviews