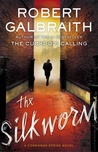 The Silkworm by Robert Galbraith (Cormoran Strike #2)
My rating: 4 of 5 stars
Genre: Mystery/Thriller
When I first started reading this I wasn't to sure if I was going to like it but what a murder scene and it turned out to be a great mystery wrapped up around some literary types which is definitely my cup of tea. So I really, really enjoyed this read.
Cormoran and Robin are back in book #2 with a vengeance and even though there was no "fireworks" between the two like I had hoped there would be there was still some good news to keep my hopes of them alive and that is that Cormoran's ex finally got married so maybe he can finally let her go and realize that he is really in love with Robin and then Robin will simultaneously notice that her fiance is a huge stick in the mud and then Cormoran and Robin will live happily ever after.
See J.K. I already have the ending all written for you, lol.
But seriously away from my literary fantasies and back to the book.
The Silkworm is full of eccentric characters, particularly Leonora Quine. Leonora is the wife of author Owen Quine who has gone missing and she hires Cormoran to try and find him but instead of finding the man living and breathing he finds that someone put an end to him in a scene right from Owen's last unpublished book and it is a pretty gruesome way to go let me tell you, if you have a weak stomach you may want to skip over the description part of it, no I am not kidding, yucky!
Cormoran and Robin throw themselves full force into the case but we also get to meet quite a few characters that are either friends or family of the duo showing us a more personal side to them which is always nice especially in a series I think because it really lets you get to know the characters to the point they feel almost real.
Weaving in and out of eccentric literary types Cormoran and Robin will always catch their man or woman!
Discover: A terrific whodunit.
View all my reviews