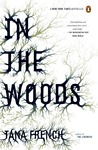 In the Woods by Tana French (Dublin Murder Squad #1)
My rating: 5 of 5 stars
Genre: Mystery/Crime
A girl's body is found and Detective Rob Ryan finds himself in the same woods that have haunted him his whole life. Rob and two of his best friends in the prime of their youth went into those woods and only Rob came out, the other two were never found.
Going back to that tragic place from his youth throws Detective Ryan for a loop but he cleverly hides it on the outside but the inside is a big mess of torn up thoughts and flashes into the past.
His partner Detective Cassie Maddox has no idea what Detective Ryan is hiding but she does her best to back up his move anyway that she can. There are so many possible suspects since the body of young Katharine Devlin was found at an archaeological dig site full of hopeful college students trying to find artifacts before the area is bulldozed to make way for a highway.
The trail leads them away from the college student and starts to lead them in the direction of the girl's family and how the strange things that had been happening to Katharine before she was murdered. Here is where Detective Maddox and Ryan will find the murderers. The shock of finding out who killed Katharine Devlin is to much for Detective Ryan and the whole case blows up in their faces. They are able to solve the case but their partnership doesn't survive this and Detective Ryan is forced to make a decision about his career.
A tale of manipulation and murder unlike anything I have ever read before. I always feel a little lost when I read Tana French because it feels like you are just dropped into the story and you have to figure out where the things that may not seem related end up solving the case, but this is what is so intriguing about her writing for the whole story by the end has meaning even the little things that you noticed in the story finally mean something.
View all my reviews